Hee hee! Got to work this morning and the boss siad that we could watch the royal wedding! Woo!
The frock is nice enough. Not my taste - I cannot STAND lace - but it suits her well and flatters her figure without being tarty. I have to admit I may be a little disapointed that it wasn't something massivly over the top but I think she made a good choice.
Watching them make their vows I think I can believe that he does love her, she looked a little stiff (prob nerves) but with a little luck this one might last the distance. I hope so any way.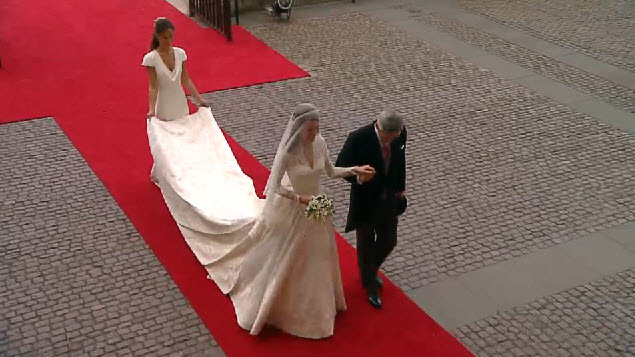 Jack made me laugh this morning. He came into our bedroom while I was getting ready for work and asked what I was watching on the telly. I said it was the news. Hw asked why, so I told him it was the royal wedding today so it was a bit special. He asked why again, and I said we were getting a new princess.
*sigh*
This turned out to be the wrong thing to say.
"I want a new princess mummy! Want a princess NOW!"
"Do you? Well, you'd better go and tell daddy then..."
So off he toddles down the stairs to daddy and Tom and annouces that he wants a princess. Mark's thinking that they are all a tad too old, even Fergies daughters are going to be a bit out of his age range (by about 15 - 20 years or so, lost track of how old they are). So it looks like we'll have to keep an eye on the new royal couple. If they have any daughters Jack will be expecting to be in with a chance!